FREE EXPEDITED SHIPPING OVER $150.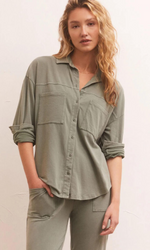 Niccola Button Up
Regular Price

$82.00

Sale Price

$82.00

Regular Price

$82.00

Unit Price

per
'WOW' on body shape: X, H, A, V, O
'WOW' on colour: 
Evergreen - Summer, Muted 
Also great on - 

Evergreen - Muted, Autumn 
Why we picked it: If there is a green button up to be had, Mavis is going to jump at it! This one is a slouchy, super lightweight sweatshirt material that can be worn open over a tee / thank or closed. 
Colour: Evergreen
Fit: True to size. As seen @smitherystyle IG, Susan 5'7.5 V shape wears XS, Merideth, 5'5 X shape wears S. Taylan, 5'5 O shape wears L. Mavis, 5'3 A shape wears M. 
Material: 95% Cotton 5% Spandex